04.04.2017
GEDB Annual Report for 2016
Publications
The Global Economic Dynamics and the Biosphere programme (GEDB) is happy to announce the Annual Report for 2016. It gives an overview of ongoing research, including results and activities.
In 2016 GEDB continued to publish groundbreaking research with more than 30 peer-reviewed articles, of which many in high ranking journals.
Read the report here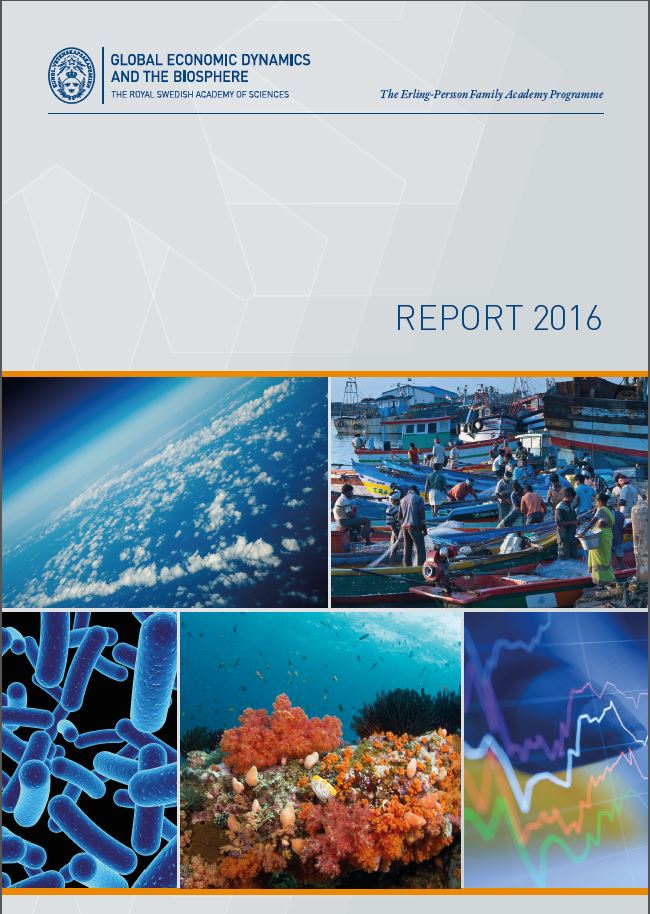 During 2016, several reviews and syntheses developed by GEDB (alone or in collaboration) have contributed to setting new research agendas or have shown how novel combinations of disciplines and/or methods are critical for better understanding the interplay between global environmental change and human affairs in the Anthropocene.
They include work that elaborates the significance of a healthy biosphere for human wellbeing with major implications for practice and policy. Other examples are two systemic overviews of marine human-environment systems, which significantly extend earlier perspectives and approaches to management and governance of these systems.
There has also been collaborative work combining the challenges of sustainable food systems, human health and biosphere stewardship that have previously not been well integrated. The majority of the work has taken place within the three research frontier themes of GEDB. All have involved new forms of knowledge interaction, and many also include collaboration with practice, policy and business.
One such collaboration is the fist Keystone Dialogue – connecting science with industry leaders for biosphere stewardship, a dialogue between scientists and seafood business leaders, where eight of the world's largest seafood companies issued a ten-point statement committing to action on ocean stewardship. Read more about this engagement here
A complete list of publications and a list of selected activities are found in the report's Appendix.