03.04.2018
GEDB Annual Report for 2017
Publications
The Global Economic Dynamics and the Biosphere programme (GEDB) is happy to announce the Annual Report for 2017. It gives an overview of ongoing research, including results and activities.
In 2017 GEDB continued to publish groundbreaking research with more than 40 peer-reviewed articles, of which many in high ranking journals.
Read the report here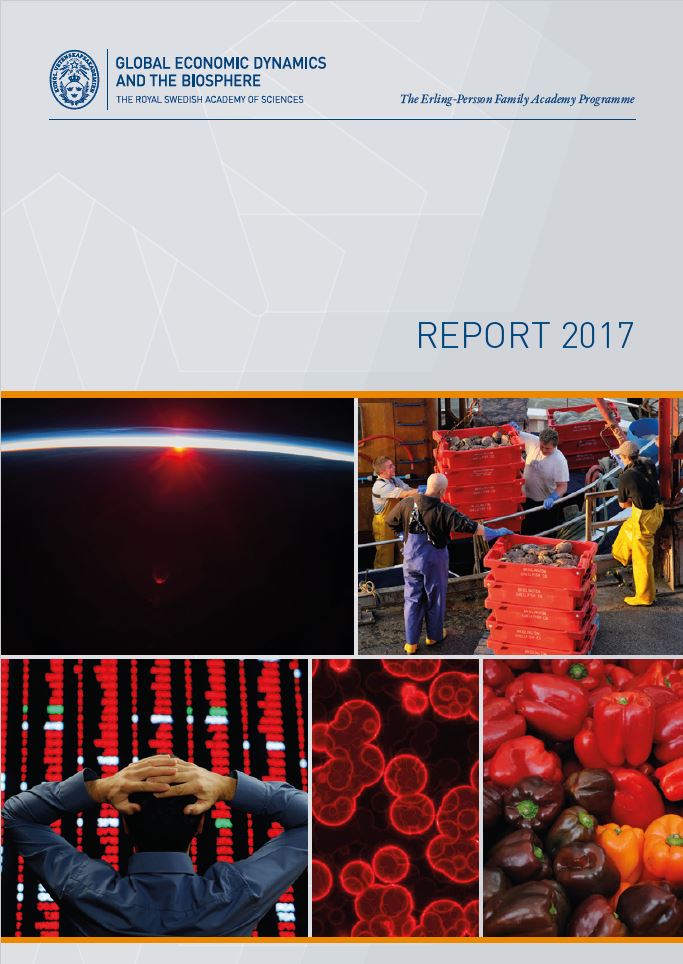 During 2017, several reviews and syntheses developed by GEDB (alone or in collaboration) have contributed to setting new research agendas or have shown how novel combinations of disciplines and/or methods are critical for better understanding the interplay between global environmental change and human affairs in the Anthropocene.
Remarkable progress has been achieved within the research theme "Links between biosphere dynamics and the financial system". It has evolved into an entirely novel academic field and has developed ways of conceptualising and empirically investigating links between the financial sector and the biosphere. For example, collaborating with international finance actors, GEDB researchers are investigating how financial actors shape the Earth system and the effects of tax havens on global sustainability.
A growing field of research within GEDB establishes antibiotic and pesticide resistance as challenges to environmental sustainability and offer a systemic view to tackle this global threat.
In the report are also featured a number of impactful outreach activities and events. One such is the Seafood Business for Ocean Stewardship (SeaBOS) initiative, which is attracting the involvement of a growing number of leaders in business, policy and research.
A complete list of publications and a list of selected activities are found in the report's Appendix.