Publications
The Global Economic Dynamics and the Biosphere programme (GEDB) is happy to announce the Annual Report for 2019. The report provides an overview of ongoing research, including results and activities.
In 2019, the first year of GEDB's second funding cycle, continued to publish groundbreaking scientific research with more than 30 peer-reviewed articles, of which many in high ranking journals.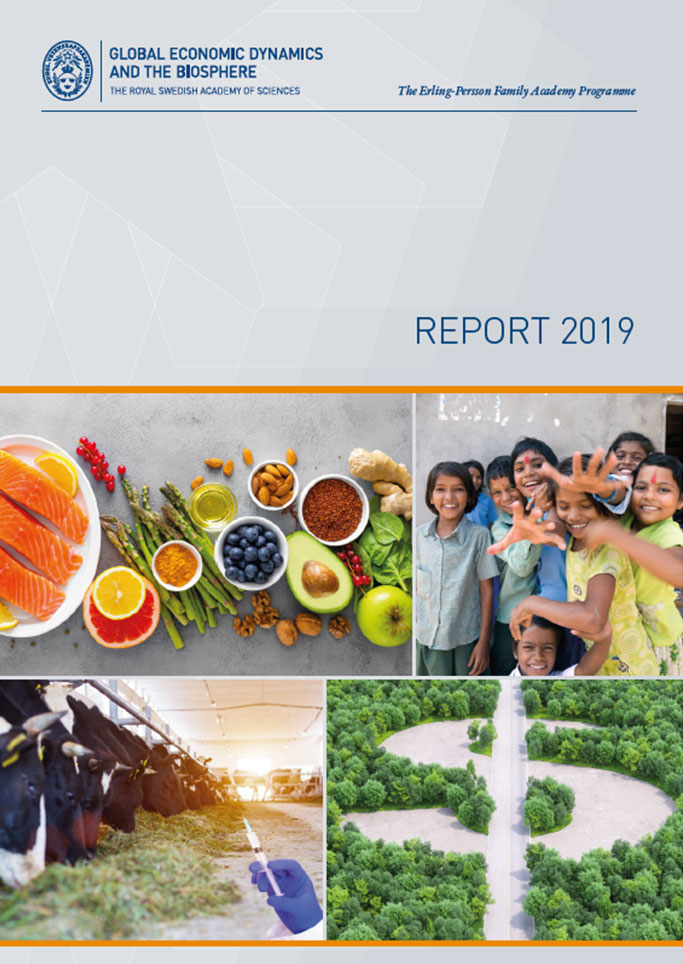 Read the report here
GEDB continued to grow, hiring three post-docs, three research assistants and one senior data analyst. Meanwhile, two former research assistants became PhD students and first GEDB PhD student graduated in January 2020.
Biosphere Finance research theme obtained new funding from Vinnova and launched a project aimed at developing metrics that can support an informed shift of mainstream capital towards activities that reduce harm and promote biosphere resilience.
As a part of Global Health and Biosphere Stewardship research theme, GEDB established a collaboration with the Swedish Institute for Global Health Transformations (SIGHT). Together with SIGHT, GEDB contributed in writing the report seeking to put child health at the centre of the 2030 Agenda and the Sustainable Development Goals (SDGs), while acknowledging the biosphere as the foundation for human health and wellbeing.
Furthermore, GEDB's Cross-scale Dynamics and Systems Transformation research sub-theme research published an scientific article explaining that a handful of transnational corporations in agriculture, forestry, seafood, cement manufacture, minerals and fossil energy possess the ability to influence critical functions of the biosphere.
GEDB staff participated in more than 50 activities (e.g. workshops, TV and radio appearances, lectures, conferences, meetings) in which they promoted programme's high-impact scientific work and its applicability with practice, policy, business and society as a whole. For example, GEDB's executive director, Beatrice Crona, co-developed and led a workshop on 'Active ownership and deforestation risks' with the Sustainable Finance Research Platform at Misum and Stockholm Sustainable Finance Centre. This was at the invitation of Sveriges Forum for Hållbara Investeringar (Swesif) and the Nordic Sustainable Investment Forum (SIF) and was held in November 2019.
A complete list of publications and a list of selected activities are found in the report's Appendix.